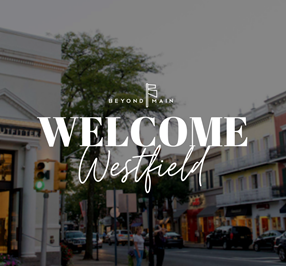 Shopping Local in Westfield Just Went Online With Beyond Main
Westfield is open for business in-person and now, online. With the help of Beyond Main Downtown Westfield, the online local e-commerce site, locals from near and far will now be able to shop many Westfield retailers from their home or mobile devices.
November 25th, 2020 – (WESTFIELD, NJ) Beyond Main Downtown Westfield, an online "shop local" e-commerce site, has just gone live in Westfield, NJ, in time for Small Business Saturday and Cyber Monday.
Beyond Main has been steadily growing since its 2019 debut in Summit, NJ. The company's mission is to help small businesses and communities thrive in the new era of retail with a convenient way to shop local. That mission has taken on a whole new meaning in the era of COVID-19 with the now critical added benefit of safety.
Beyond Main offers easy fulfillment methods, including buy online, pick-up in-store, curbside delivery, local delivery, and shipping. Through a new partnership with the
Downtown Westfield Corporation, consumers can now make purchases from
multiple Westfield businesses using a convenient consolidated check-out
process, making it easier than ever to shop local this holiday season.
"We are thrilled to partner with Beyond Main to help Westfield businesses establish
convenient, online options this holiday season," said Bob Zuckerman, Executive
Director, Downtown Westfield Corporation. "Our business owners have demonstrated
remarkable resilience in a year like no other, and the coming weeks will be critical for them.
Providing additional consumer options like the services of Beyond Main are instrumental
in our efforts to keep the focus on shopping local."
"The Westfield community is incredibly loyal to its dedicated local business owners, and
Beyond Main provides residents and visitors with improved access to their favorite
products and services," said Westfield Mayor Shelley Brindle. "This is an important
addition to our ongoing efforts to support Downtown Westfield as they kick off their most
vital timeframe of the year."
Participating Westfield retailers to date include Ahrre's Coffee Roastery, Acting Out, Beyond Trends, The Chocolate Bar, Cinnaholic, Club Pilates, Evalyn Dunn Gallery of Art, Indigo Art Studio, Mimi and Hill, Outta Hand Pizza, Patricia and Paul's Artisans of Fine Oils and Balsalmics, and Sole Shoes — with more additions expected in the coming days.
Gift cards will be available for Beyond Main Downtown Westfield starting on December 5. A perfect way to show appreciation for teachers, the Westfield PTO has rallied around the "shop local" cause and is expected to use the new online website for holiday gifts.
"We are so grateful to the DWC and Beyond Main for their collaboration in support of Westfield's small businesses," said Anna Mastroianni, owner of Sole Shoes. "Shopping local is crucial to the vibrancy of our downtown and maintaining the sense of community so deeply felt in Westfield. Having one site where one can browse through our unique shops couldn't be easier. It's a win-win collaboration!"
"Our family is thrilled to have the ability to shop our Westfield retail stores online with delivery. It's a great way to support our local community while having the convenience and safety of doing it from our home," says Westfield resident and shop local supporter, Aneesa Chignoli.
"When you shop or patron a local business, almost 50 percent of what you spend gets recirculated back into your local economy, versus one percent of the same spend through third party online and big-box sites," said Beyond Main Founder, Kate Giovambattista. "This has a ripple effect that not only hurts small business but our communities at large. That is why we created Beyond Main, to change this dynamic and offer a better solution to small businesses and customers wishing to support local businesses in a modern way. Our platform and technology allow individuals to search, discover, shop, and support their favorite local businesses on-demand with ease and convenience," added Kate.
# # #
About Beyond Main
Beyond Main is a female-founded New Jersey retail technology startup based in Summit, NJ. Beyond Main utilizes technology to enhance convenience and service around shopping and supporting local businesses through software as a service subscription model.
For information about Beyond Main, please call Bridget at 312-813-2210 or email bridget@beyondmain.com.
About the Downtown Westfield Corporation (DWC)
The Downtown Westfield Corporation (DWC) is the management entity of the Special Improvement District. The organization comprises a small staff, a volunteer board of directors, and various committees. Westfield is a nationally designated Main Street Community. Downtown Westfield is a vibrant shopping and dining destination, home to Trader Joe's, Urban Outfitters, GAP, Williams-Sonoma, and over 200 fine stores, restaurants, and services. Discover Westfield's unique shops, stylish boutiques, and delicious upscale and casual eating establishments.
If you would like more information about online shopping in Westfield, reach Bob Zuckerman at 908.789.9444 or b.zuckerman@westfieldtoday.com.