Business Spotlight: Outta Hand Pizza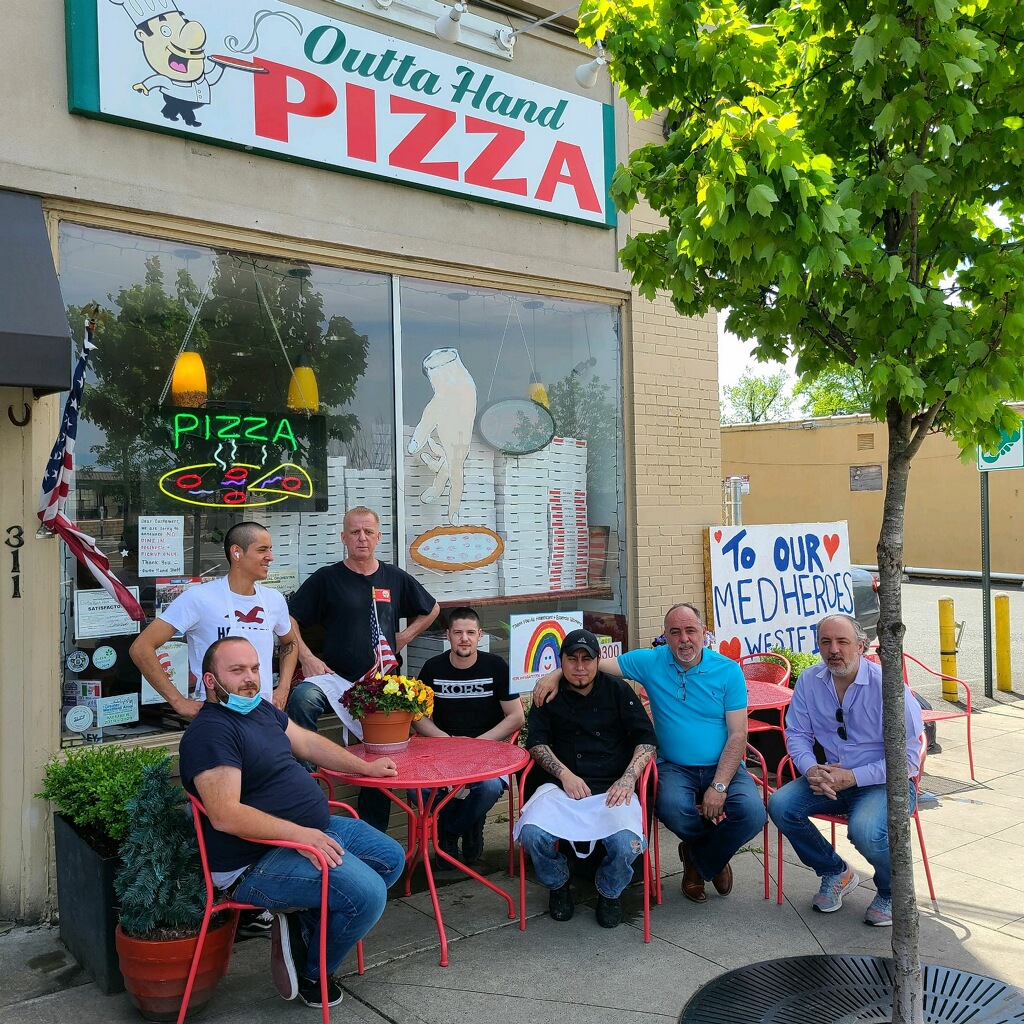 Meet Burim Regjaj, the co-owner and co-founder of Outta Hand Pizza, one of the many new businesses on our Westfield Marketplace. His pizzeria serves everything from traditional pies along with gourmet pizzas, wraps, pastas, calzones, and more. The restaurant is also known for its signature sauce — a generations-old recipe that has been passed down through the family.
Aside from his delicious food, Burim's story goes back over 20 years. In 1999 when in his native Kosovo (formerly Yugoslavia), the Serbian army marched into his country, eventually displacing between 800,000 and 1 million of his countrymen and forcing them to walk 50-75 miles to Albania. It didn't matter if they were old or young, healthy or infirmed. Everyone had to walk. About 100,000 homes were burned to the ground during this terrible genocide. The displaced people included 52 members of Burim's own family, starting with his grandparents. Burim himself had fortunately escaped to the United States in 1992 to avoid conscription in the Yugoslavian army.
During what has been described as the "Clinton campaign" (during Bill Clinton's time in office 1993-2001), the U.S. Army routed the Serbs, forcing them back to their own country and rescuing the Kosovars. Burim has been forever grateful for not only what the U.S. Army did to save his people but what they do today to protect our own country.
Shortly after he started Outta Hand Pizza in 2018, a young man walked into his shop. He didn't have enough money to buy a $2.75 slice of pizza. Discovering the man was a veteran, Burim refused payment and invited him back daily to receive a meal. That is when his homeless veterans work began,any veteran needing a warm meal was welcome at Outta Hand Pizza.
Burim is a member of the Rotary Club of Westfield. The club has created a veterans fund chaired by Burim whereby they distribute monthly essential items (mainly clothing) to the Veterans Hospital in Lyons, NJ. That effort has expanded to 5 other Rotary clubs contributing to this cause. Outta Hand Pizza makes it easy to make a difference through their Pre-Pay, a Meal for a Veteran Program.
From atrocities over 20 years ago in Kosovo to enormous generosity in Westfield today - that is Burim's story.
Shop Gift Cards