The Language of Good Luck Parcel
For anyone who needs a little good fortune
Adapted from an antique French postcard, the image in this parcel represents all symbols of good luck.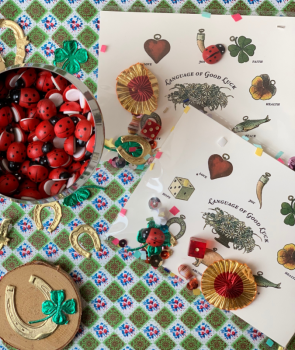 Details
Within a clear sleeve, tiny objects of luck are enclosed: a ladybug, fish, dice, 4-leaf clover, pig, rosette wheel, horseshoe. Nothing at Parcel is complete without a smattering of our handmade confetti
Parcel
A vintage-inspired curiosity shop for all things paper, packaging, and presentation. Visit our website to see more selections.
608 Bloomfield Avenue
Montclair, NJ 07042
9.76 mi. away