Interior Designer Toraé Eastman on uplifting people by creating their interior design visions.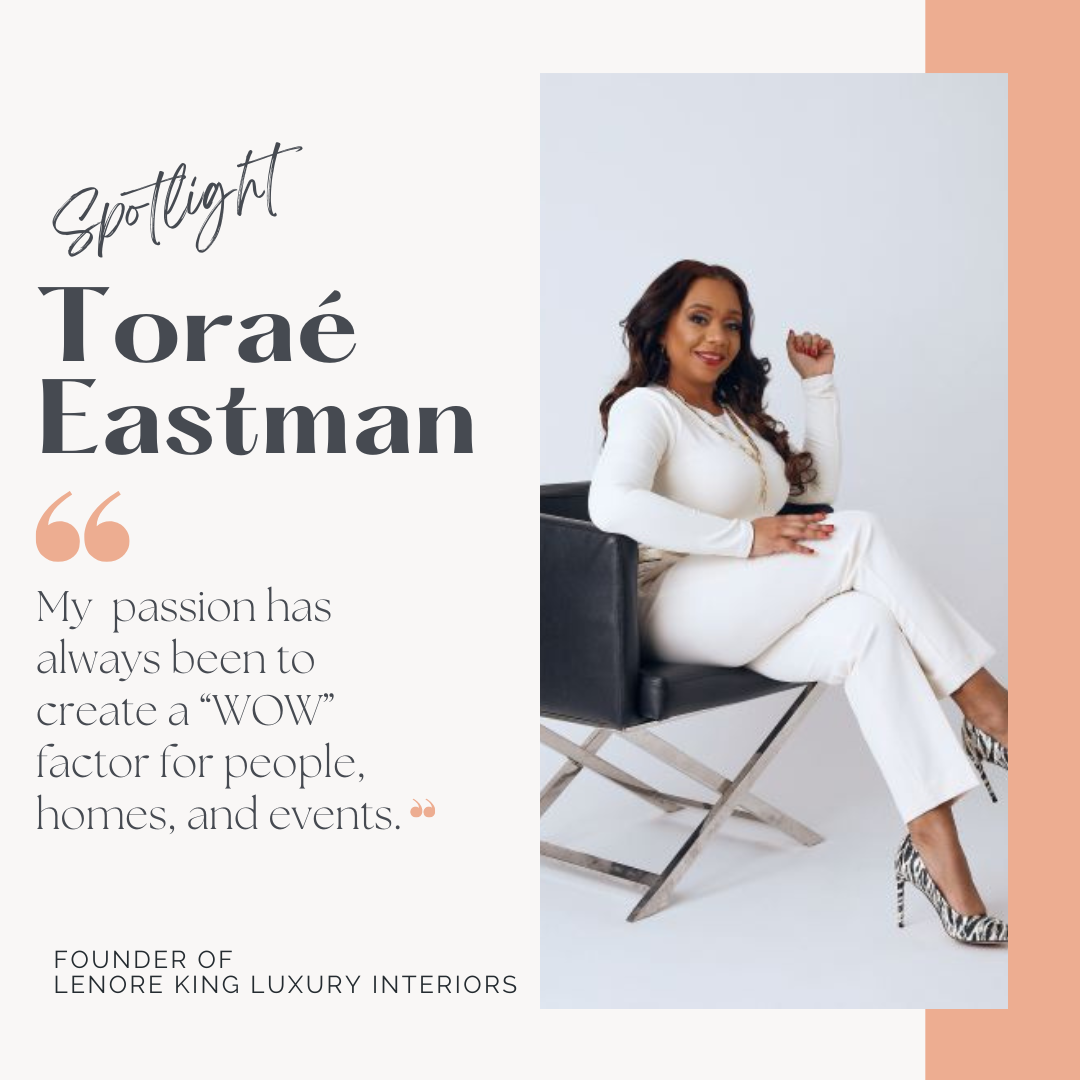 Toraé Eastman is the founder of Lenore King Luxury Interiors, a design firm based in Montclair, NJ. Originally from Brooklyn, New York, Toraé's love for design is apparent in every aspect of her life. She finds motivation in the ability to use her craft to enhance the daily lives of others.
After earning her BA in Organizational Communication from Rollins College, Toraé pursued a career in human resources management. She worked for several industries, including her last role at a major retailer. It was in this environment, surrounded by trending looks for homes, that Toraé had an epiphany - she was not walking in her given purpose. Instead, she believes she was meant to uplift people by helping them achieve their interior design visions.
Q&A
When did you establish your company, and where did the idea originate?
I started my design business in October 2016. I have always been a Creative and I had an event planning company previously for about a year. I always had a gift for designing things. I have an eye for what looks good together and people naturally would come to me for advice on designing their homes. So when my sister said to me that I am really good at this and I should make it a business, I prayed on it and decided to step out on faith and started the business.
What is the one thing that sets your company apart from its competitors?
I would say the one thing that sets me apart from my competitors is the why. I believe that designing is a gift given to me that allows me to give people a feeling of luxury and love. Interior Design is not a job for me. It is an opportunity for me to make people feel good about their homes or businesses by creating a whole experience… a whole forever mood.
What was the biggest challenge you faced while getting your company up and running, and how did you overcome it?
The biggest challenge I faced while getting my company up and running was the structure. Because I started as a one woman show I had to wear all hats. I had to be the talent, the marketer, the accountant, human resources, installer and administration. I was able to overcome it by soliciting the help of my family members and relinquishing some of the control so that I could focus on being the talent which is what drives my business. I was eventually able to bring on a design intern to help with the creative side also.
What would you say to your younger self when she was just starting out as an entrepreneur?
I would tell my younger self to hon in on your passion. Develop it and continue to develop it everyday. Don't allow others' opinions to navigate your path in life. Stay focused on your true self, calling, and purpose. It doesn't have to make sense to anyone but you.
What advice do you have for other female entrepreneurs?
My advice would honestly be the same as what I would tell my younger self. In addition I would say as women, let's continue to support each other and uplift one another. I believe that we reap what we sow and if you sow into the lives of other women, it will be given back to you.