A Win-Win for Teachers and Local Businesses this Holiday Season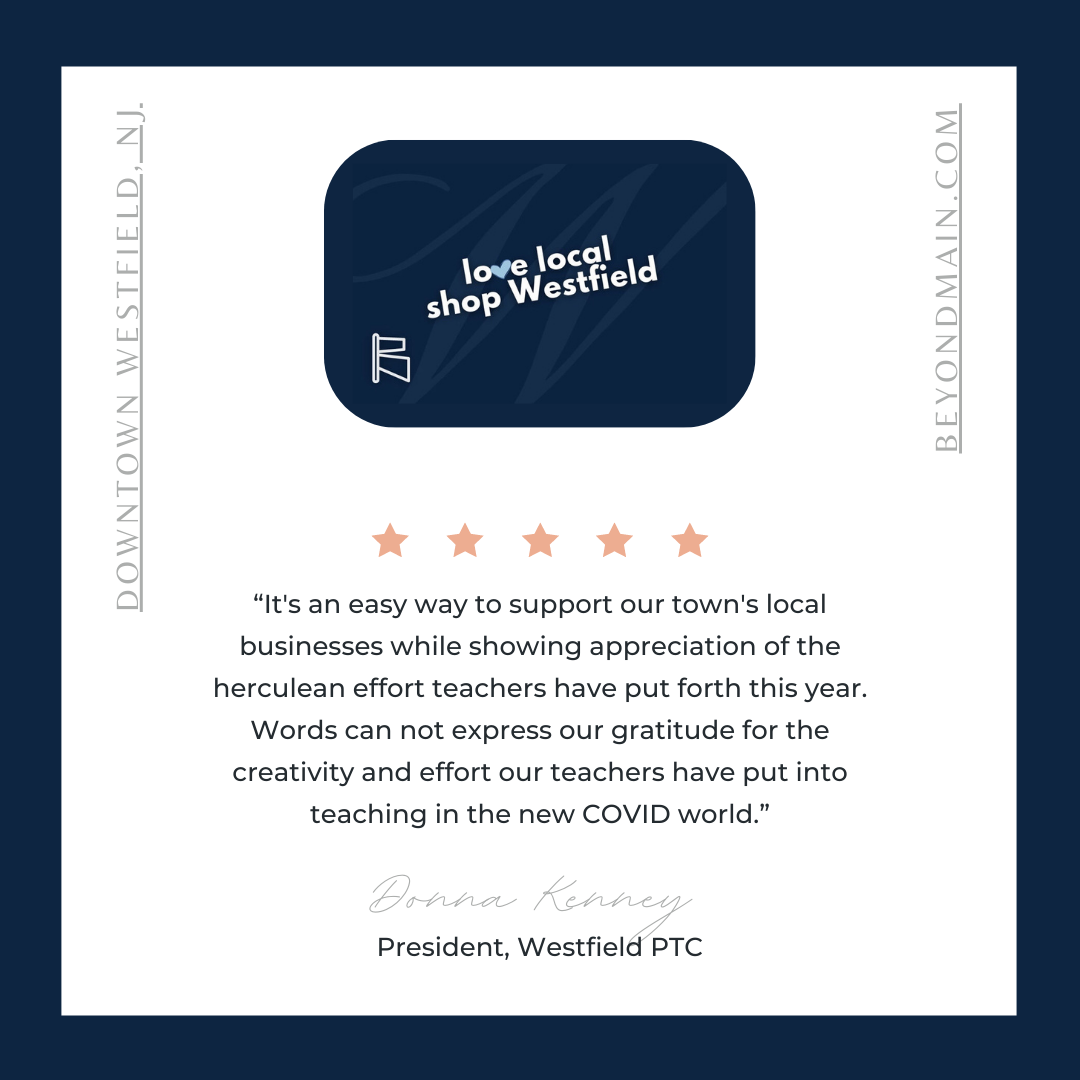 December 18, 2020
A Win-Win for Teachers and Local Businesses this Holiday Season
Westfield, NJ – The Downtown Westfield Corporation is teaming up with the Westfield Parent Teacher Council (PTC) to encourage parents who wish to purchase teacher holiday gifts to do so by supporting independent Westfield businesses—through a new online gift card program offered by Beyond Main Downtown Westfield.
The Beyond Main Downtown Westfield Gift Card can be used among a robust selection of Westfield merchants and restaurants on the site—with more joining every day—and delivered to the recipient immediately via email. The gift card can be accessed here.
Merchants on Beyond Main Downtown Westfield also have a curated list of gifts that can be delivered locally for free through Christmas eve.
The Beyond Main Downtown Westfield site can be accessed here.
"The PTC would like to encourage class parents to explore gift options available on Beyond Main Downtown Westfield for their teacher gift-giving this year," says Donna Kenney, President of the Westfield PTC. "It's an easy way to support our town's local businesses while showing appreciation of the herculean effort teachers have put forth this year. Words can not express our gratitude for the creativity and effort our teachers have put into teaching in the new COVID world." The Westfield Parent Teacher Council (PTC) is comprised of the PTO & PTSO presidents from all ten of Westfield's public schools.
Beyond Main.com offers easy fulfillment methods, including buy online, pick-up in-store, curbside delivery, local delivery, email delivery of the Beyond Main Downtown Westfield gift card, and shipping. Shoppers can purchase from multiple stores and check out with one transaction.
"We are proud to partner with Beyond Main and the Westfield PTC to offer this unique way to show teacher appreciation this year," says Bob Zuckerman, Executive Director of the Downtown Westfield Corporation. "Everyone in Westfield wins when we support our teachers and our small businesses."
The benefit of a grant has allowed the Downtown Westfield Corporation to absorb all the start up costs associated with Beyond Main. "We see this as a huge opportunity to get our independent businesses online and make it easy for the community to shop local first, instead of going through giant e-commerce sites," explains Bob Zuckerman.
Why is it so important to support local businesses? Beyond Main's Founder, Kate Giovambattista, explains, "We continue to face the realities of this COVID world, where 1 in 5 small businesses have closed in 2020 while we continue to see the rise of the third-party e-commerce giants. When you shop local, 50% of every dollar stays in the community compared to just 1% when you buy from large e-commerce. Westfield is innovating in how they give back to their community. Hats off to the PTC for coming up with such an incredible way to support teachers and local business at the same time."
# # #
For more information about the Downtown Westfield Corporation partnerships please contact Bob Zuckerman, Executive Director of the Downtown Westfield Corporation at 908.789.9444 or email b.zuckerman@westfieldtoday.com.
For information about Beyond Main, please call Bridget at 312-813-2210 or email bridget@beyondmain.com.
WESTFIELD PTC BOARD MEMBERS
President: Donna Kenney Keith
Vice President: Josephine Stack
Treasurer: Jennifer Crawford
Corresponding Secretary: Thao Tran-Nasser
Recording Secretary: Liz Bedner
Advisor: Amisha Mehta
WESTFIELD PTO/PTSO CO-PRESIDENTS
Lincoln Early Childhood Center: Thao Tran- Nasser and Elise Garfinkel
Franklin Elementary School: Jessica Siegel and Rosemary Rossitto
Jefferson Elementary School: Jennifer Carew and Jennifer Gilman
McKinley Elementary School: Elizabeth Lane and Tara Karlborn
Tamaques Elementary School: Lisa Espina and Nikita Desai
Washington Elementary School: Victoria Walker and Kami Carulli
Wilson Elementary School: Anna Qualshie and Faena Youngquist
Edison Intermediate School: Darcy Varner and Rebecca Scangas-Verma
Roosevelt Intermediate School: Susan Conover and Natalia Goldman
Westfield High School: Sarah McGrail and Josephine Stack