Sustainable Haus - Plastic Free July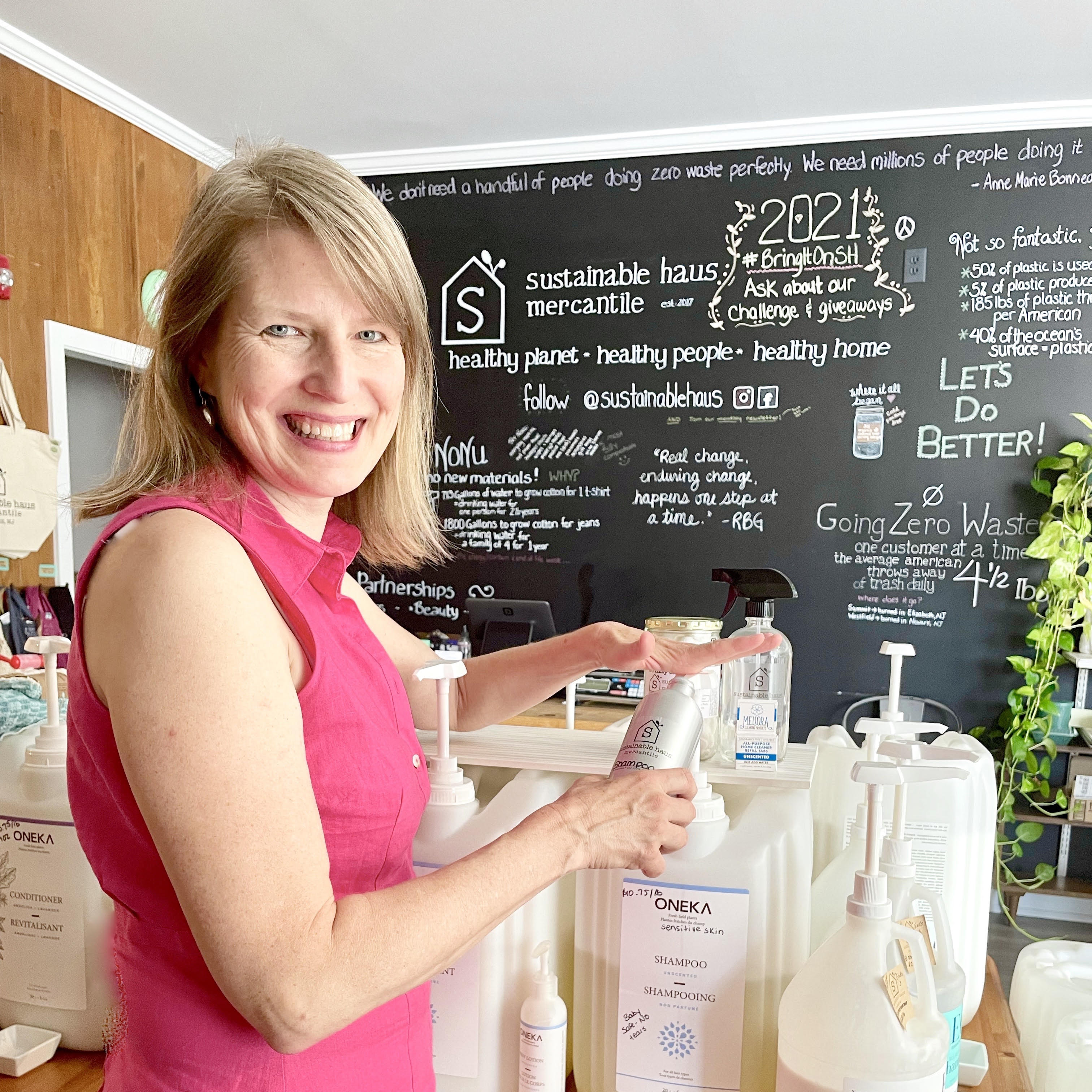 Join us and Make One or Two Changes!
By Janette Spiezio, Entrepreneur, Maker and Owner of Sustainable Haus Mercantile in Summit
A circular economy and sustainability have long been aligned. Sustainable Haus Mercantile is joining Beyond Main to extend our reach and inspire change. We hope you'll join us in being more sustainable!
"Alone we are just a drop but together we are an ocean" said Rebecca Prince-Ruiz Founder of Plastic Free July Foundation. We know that collectively, we can be an amazing force for change. If we aim at nothing, we will surely achieve nothing.
Plastic Free July began in 2011 and has grown into a global movement, with an estimated 326 million people reducing plastic in July and thereafter. Will you join this force for good? Here are a few jarring facts to help inspire everyone. Only about 9% of all plastic ever produced is recycled, with over 90% remaining in landfills or being burned. Locally in Union County, New Jersey, most of our trash is burned in low income communities, impacting the air quality all around us. Most importantly, plastic is a petroleum-based product containing undisclosed toxins that leach into our environment.
I will never forget, in March 2018 I had picked up 100 new and reusable polypropylene grocery bags from our local supermarket as a donation for Earth Day. I drove the box of bags about three miles home with the windows closed. When I opened the door to get out, I almost passed out. The new bags offgassed in my three-mile journey. I was lightheaded and the smell overwhelmed me. Most people accept the advice not to heat or freeze plastic. But I am told daily, "it must be safe enough to store my food in the refrigerator and cabinets in plastic." I know my customers are disappointed when I don't agree. Ready for some good news to help you make a few small changes?
Sustainable Haus Mercantile, a zero waste home goods and refill shop that offers many budget friendly solutions. Making sustainable changes can have a positive impact on your family's health and the health of the planet. We need many people making small, meaningful and lasting changes, rather than a few of us aiming for perfection. For example, if all of Summit and Westfield reduced their plastic by refilling one shampoo bottle, one dish soap bottle, and one laundry detergent jug every month, we would reduce an estimated 1.8 million plastic bottles annually. Take the pledge and join the millions of people reducing plastic and waste at Plastic Free July®. It is a global movement that helps millions of people be part of the solution to plastic pollution – so we can have cleaner streets, oceans, and beautiful communities.
Did you know the average American produces 4.5 pounds of trash daily, and most of that is packaging? At Sustainable Haus, we recommend a couple approaches to begin reducing plastic waste. Get started by doing a trash and recycling audit. Look through your trash and recycling for a week and see what the bulk of that waste represents. Start working on the big offenders. But that's not my top recommendation. I suggest starting with your health. Start by reducing plastics around your drinks and food, then be sure to never heat plastics, refuse heat generated register receipts (coated in Bisphenol A or BPA), and start to find food packages without plastic. I know these suggestions are much harder than they sound, especially when you know that all those cartons of juice and milk and cans of food are lined in plastic. So start small and keep at it. Come on in and ask us for help. Want to know more about all the cool things we do to help you reduce waste and exposure? For example, we have 8 specialty recycling programs, offer low cost dish rentals, offer knife sharpening, and more!
As a first generation American I lived a somewhat more sustainable life without really knowing why. About five years ago, I left corporate and pursued a zero waste life and started Sustainable Haus. I made many of my own products (and still do). Today, we offer a full line of zero waste home goods – all plastic free, package free, made with clean ingredients, and with the least environmental impact possible. I am also the designer and maker behind our everyday napkins, NJ tea towels, kids hooded baby towels, and so much more. Most of what I sew is made from upcycled cotton textiles (except for the baby towels made from new organic cotton terry) and we know that these choices make a much more sustainable impact. We have been at Summit Farmer's Market for three years and opened Sustainable Haus Mercantile at 221 Broad St., Summit in February of 2020. (Yes, we opened right into the pandemic.) We are 100% mission driven with a goal of offering better choices and have the tagline: healthy people, healthy home, healthy planet. We offer over 50 refillable products such as shampoo, dish soap, toothpaste tabs, make-up, beauty care, cleaners, laundry detergent (three brands and seven varieties), and we also have many zero waste solutions.
I'll leave you all with two questions: What changes will you make in July and thereafter? And if we had to manage all our trash within the towns we live, would that impact your urgency?
Shop Sustainable Haus Mercantile
Follow Sustainable Haus Mercantile on Instagram
Enter our sustainable giveaway social media by visiting us on Facebook or @byndmain on Instagram