Kate Giovambattista is leading a shop local revolution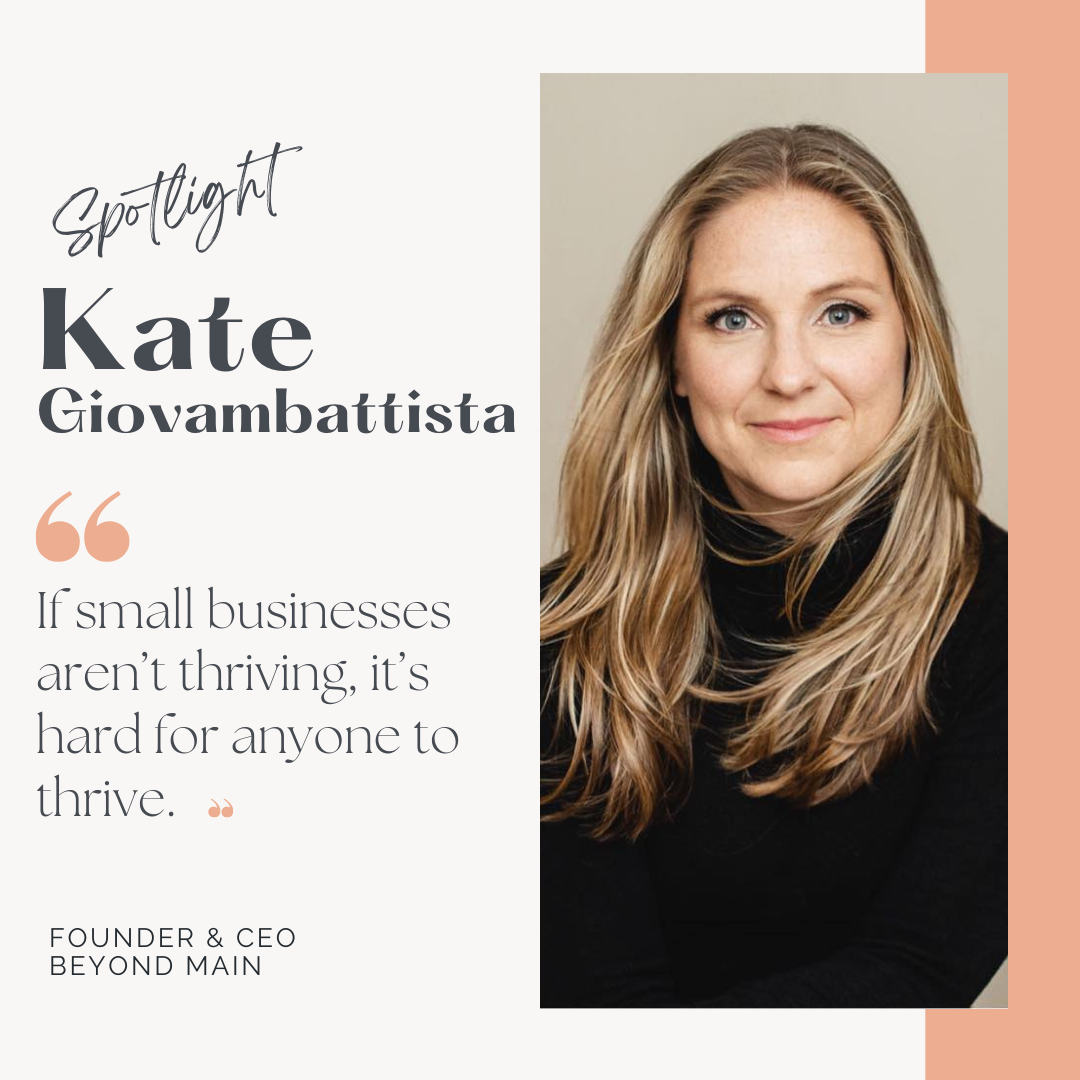 Kate Giovambattista is the founder of Beyond Main, a technology company that is revolutionizing the shop local movement. With a passion for the innovation economy and small business sector, Kate recognized the lack of affordable tools and support available to independent small business owners. She grew frustrated with the unbalanced and unfair battles that each business fought independently, leading her to believe that the sector could benefit from aggregating together to unlock economies of scale for the industry.
Kate saw the potential for a system that could improve opportunities for existing and aspiring business owners while also providing a valued service to customers and the community. She noticed that many solutions available in the market were extractive and degenerative, which further fueled her desire to build a new system that was distributive and regenerative by design. Preserving and creating new opportunities for commercial districts is a critical factor in the health and success of any city, and Kate believes that supporting small businesses is an essential part of achieving this goal. With Beyond Main, Kate has set out to provide small businesses with the tools and support they need to thrive in today's competitive environment, all while creating a positive impact on local communities.
Q&A
When did you establish your company and where did the idea originate?
The company was established in September of 2018 and we launched a test pilot during the summer of 2019. The idea originated after a visit with a local boutique owner. Hearing her concerns over the growing use and access to online shopping made it clear to me that a space was needed online that was in service to small businesses, communities, residents, and visitors.
What is the one thing that sets your company apart from its competitors?
One of the major differentiators at Beyond Main vs. other marketplace settings is that we are entirely commission free. We serve as more of a utility platform that provides the infrastructure for businesses to run, communities to market, and customers to connect and commerce within their neighborhood.
What was the biggest challenge you faced while getting your company up and running, and how did you overcome it?
The challenges are never-ending. Each phase brings a new set to overcome, but initially the biggest challenge was going from idea/concept stage, to how are we going to get something built and into the world. I had no capital and no knowledge of creating a technology platform. I had to find the right people to partner with to bring this vision to life. Like any challenge to be overcome, the only way is to persist through it.
What would you say to your younger self when she was just starting out as an entrepreneur?
Just get started and don't worry about everything being perfect or "ready". It's all an interactive process so don't wait. Things take time and the timing will never be perfect so just get started and learn things as you go.
What advice do you have for other female entrepreneurs?
Some things I have found to be true. You have all the answers and none of the answers. Things will happen slowly, and then all at once. Whatever is thrown your way try to listen to your intuition and let it guide you. I think sometimes we underestimate the power of our intuition. We block it out or diminish our instincts because it doesn't fit a certain box or narrative. Some of the most important moments and decisions have come from my intuition pulling me in the right direction. I just have to be conscious enough to listen.