Single Steep Tea Sets
The perfect measure for the perfect cup™ Single Steeps® easy to use, pre-portioned pouches are a convenient and simple way to prepare the perfect cup of premium loose leaf tea. Steeping delicious and exceptional tea is as simple as opening the pre-portioned pouch of tea, emptying the contents into a personal teapot or infusing basket, and pouring the water over the leaves to steep the perfect 12 oz cup or single pot of tea.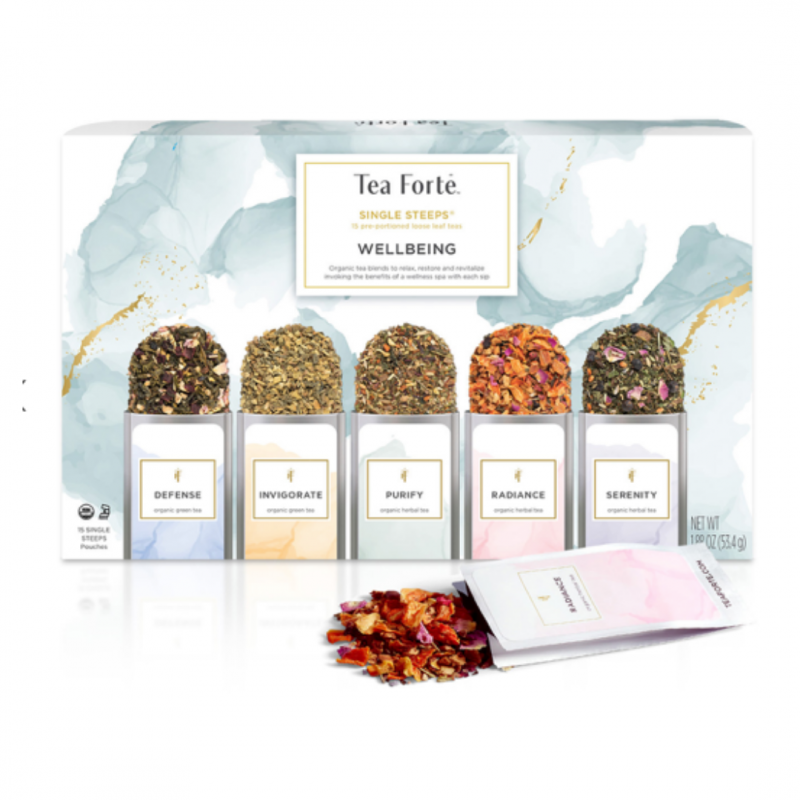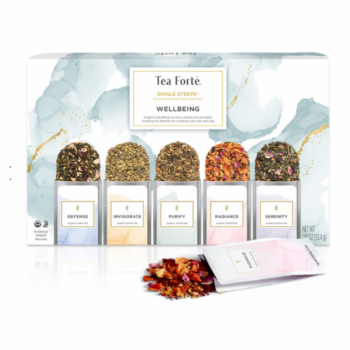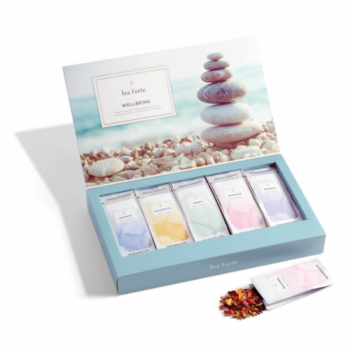 Details
Wellbeing: Our Wellbeing organic tea blends help you to relax, restore, and revitalize invoking the benefits of a wellness spa with each sip. Each box contains fifteen pre-measured loose tea pouches, 3 of each blend: Defense (green tea), Invigorate (green tea), Purify (herbal tea), Radiance (herbal tea), and Serenity (herbal tea). The open lid reveals a detailed tasting menu. All teas in this collection are USDA Organic and Kosher Certified.

Essential Greens: Essential green teas are known for the remarkable and essential health benefits that a daily cup can bring. Each Single Steeps box contains fifteen pre-measured loose leaf tea pouches, three of each blend: Green Mango Peach, Sencha, Moroccan Mint, Jasmine Green, Lemon Sorbetti. All blends in this collection are Kosher Certified and USDA organic.
---
The Rebecca Collection
The Rebecca Collection is a three-story boutique located in the heart of beautiful Bernardsville, New Jersey. It is a store that prides itself on customer service. Filled with a collection of unique gifts, clothes, and accessories, The Rebecca Collection is your source for one-stop shopping. The Rebecca Collection is always ahead of the trends. Gifts can be found for all types and of all ages. We guarantee that you will never be disappointed. In addition to all the gift items and clothes that we sell, we do custom gifts including; signs, stationery, pillows, glassware, jewelry, and much more! We also sell Amusement Games such as Pinball Machines, Video Arcades, and many other Arcade Games for the home. Give us a call or stop in and we will always be glad to help you! We offer local delivery, shipping nationwide, and gift wrapping. We offer the utmost in customer service! Please contact us for our shipping prices. We take all major credit cards except Discover.
2 Mine Brook Road
Bernardsville, NJ 07924
30.65mi.