Dog Taught Me Everything Sign
A classic black and white wooden box sign featuring a distressed "My Dog Taught Me Everything I Need To Know. It's Okay Sometimes To Just Eat And Sleep. When You Fall Down Get Back Up, Shake It Off, Forget About It, And Go On. Be Very Brave No Matter Your Size. Make Your Own Fun. Unleash Your Talents. Learn New Tricks No Matter Your Age. Make New Friends. Sniff Out Opportunities. Chase After Your Dreams. When Loved Ones Come Home Always Run To Greet Them. At The End Of The Day It Is Best To Snuggle No Matter What Has Happened. Every Day Is A Brand New Day Just Be Happy!" sentiment. Easy to hang or can free-stand alone.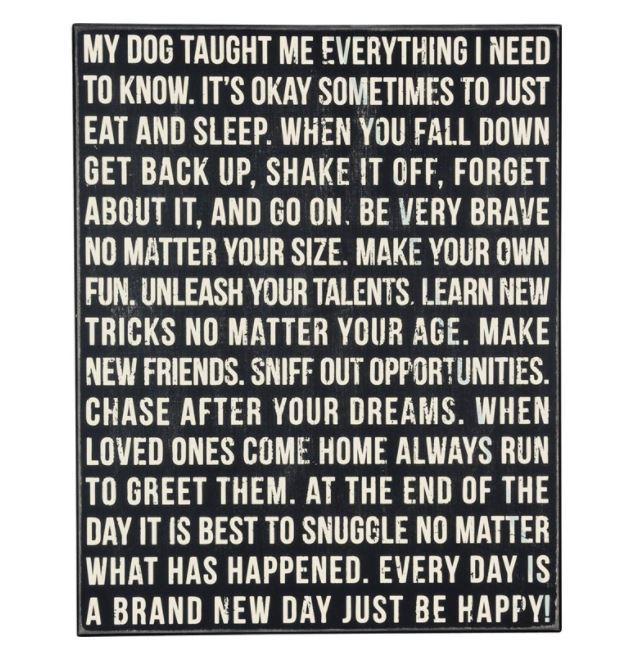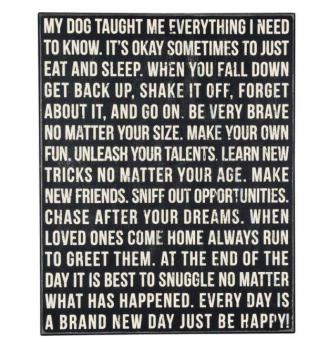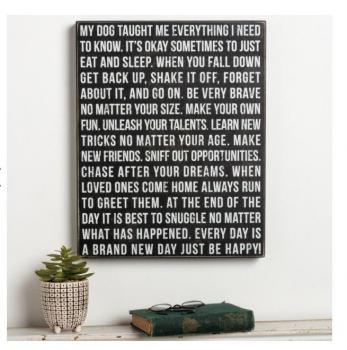 Details
Dimensions: 16" x 20" x 1.75"
---
The Rebecca Collection
The Rebecca Collection is a three-story boutique located in the heart of beautiful Bernardsville, New Jersey. It is a store that prides itself on customer service. Filled with a collection of unique gifts, clothes, and accessories, The Rebecca Collection is your source for one-stop shopping. The Rebecca Collection is always ahead of the trends. Gifts can be found for all types and of all ages. We guarantee that you will never be disappointed. In addition to all the gift items and clothes that we sell, we do custom gifts including; signs, stationery, pillows, glassware, jewelry, and much more! We also sell Amusement Games such as Pinball Machines, Video Arcades, and many other Arcade Games for the home. Give us a call or stop in and we will always be glad to help you! We offer local delivery, shipping nationwide, and gift wrapping. We offer the utmost in customer service! Please contact us for our shipping prices. We take all major credit cards except Discover.
2 Mine Brook Road
Bernardsville, NJ 07924
30.65mi.