Summit Chic Coconut Wax Blend Tin Candle
Summit Chic
Summit Chic is a rich, sultry, and complex fragrance with a touch of floral and vanilla. This scent paired with our premium coconut apricot wax blend and eco-friendly, clean burning wooden wick makes this luxurious candle perfect for any small room or living space in your home.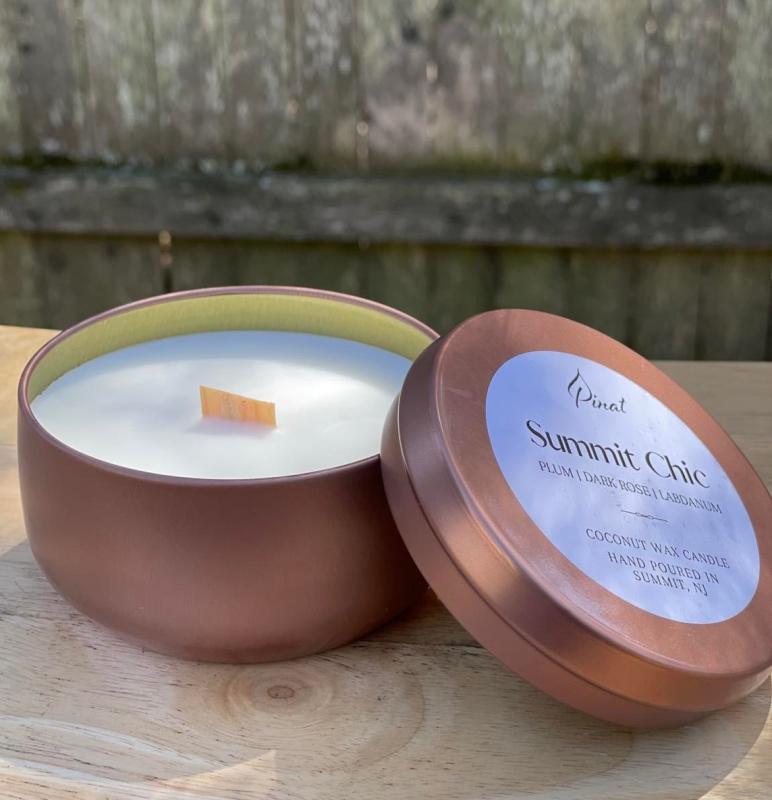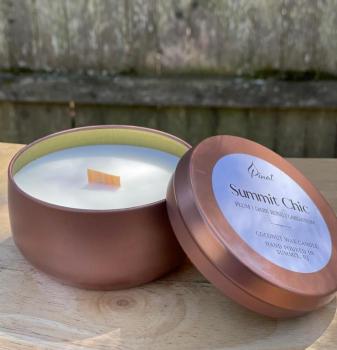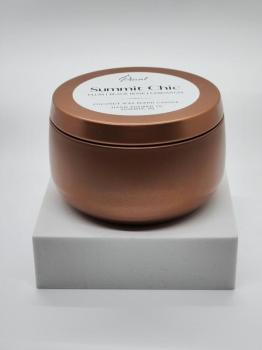 Details
Summit Chic
Premium coconut apricot wax
Crackling wooden wick
High quality fragrance oil
High end rose gold travel tin
6.0 oz. net weight

Scent Note Profile:

Top: Pink Peppercorn, Grapefruit, Plum
Middle: Black Rose, Cumin
Base: Vanilla, Patchouli, Labdanum
PINAT
Fresh. Clean. Relaxing. Luxury. Pause for a mental break. Pinat (pronounced as peanut) is a candle company founded in 2020 by Elfie Lim from Summit, New Jersey. Making candles at Pinat is a much-needed mental break from my daily routine. It has helped me mentally in more ways than one. With continuous research and testing, we are able to create products that are made with premium, phthalate-free, and eco-friendly ingredients. We are dedicated to giving everyone products that are high quality and environmentally friendly. So, pause for a mental break and light one of our candles for a fresh, clean, relaxing, and luxurious experience. Waxes Our waxes are gluten-free, toxin-free, paraben-free, phthalate-free and come from renewable sources, and are FDA-approved. Soy Wax Our soy wax is a beautiful, premium wax made with 100% US-grown soy. Coco Apricot Wax Our high-end coco apricot wax is made with a vegan wax blend consisting of apricot, coconut, and a minuscule amount of highly refined food-grade paraffin wax. Wicks Cotton Wicks Our cotton wicks are made with all-natural cotton and are eco-friendly and metal-free. Wooden Wicks Our wooden wicks are eco-friendly and clean burning wooden wicks Fragrance Oils Our fragrance oils are carefully selected to ensure everyone can enjoy the clean and phthalate-free scents of all of our products. Reed Diffuser Our reed diffuser base is non-toxic and has 0% VOC content. ​Vegan GMO free Free of Allergens Paraben free Phthalate free Free of Prop 65 Ingredients Vessels Our candle vessels are carefully selected to showcase the clean, refreshing, and premium quality of our products. All of our candle vessels can be repurposed once the wax has burned off.
Summit, NJ 07901, US
19.99 mi. away